2 Feb 2019
Advisian, part of the WorleyParsons Group, has signed a Memorandum of Understanding (MoU) with UK Export Finance (UKEF) the UK's export credit agency.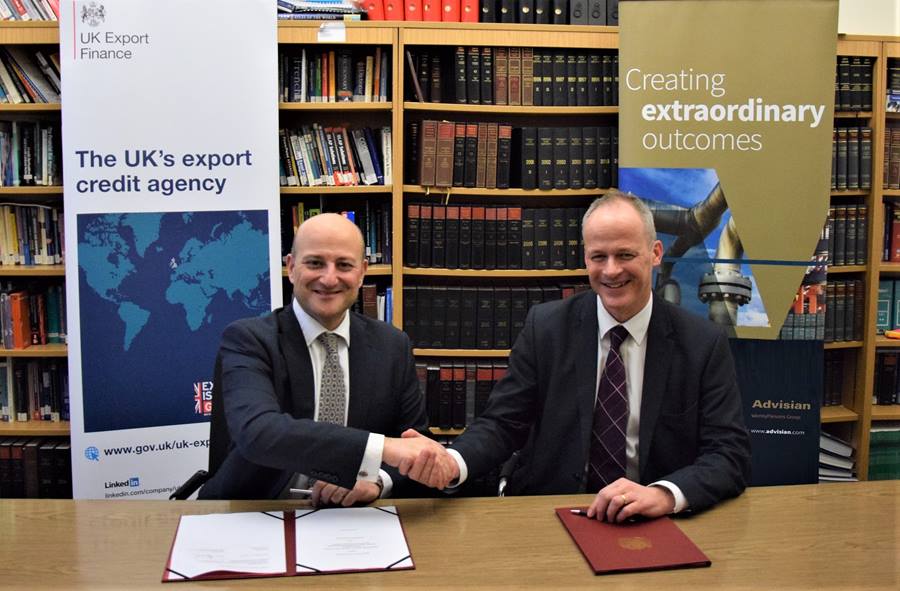 Alan Gordon, Regional Managing Director of Services of WorleyParsons. Europe, and Louis Taylor, Chief Executive of UK Export, Finance sign a Memorandum of Understanding on Jan. 22, 2019.

Signed on 22 January 2019 by Louis Taylor, Chief Executive Officer of UKEF, and Alan Gordon, Europe Managing Director, WorleyParsons, the MoU will meet the challenges of providing finance through the initial phase of a project's development.
UKEF and Advisian will collaborate to find early stage infrastructure projects across the globe that would benefit from UKEF's flexible finance offer. In creating more export opportunities, this support will open up significant opportunities with Advisian to UK suppliers, supporting jobs and prosperity across the whole of the UK.
Minister of State for Trade and Export Promotion Baroness Fairhead said: "Advisian has an impressive track record in identifying and delivering complex infrastructure projects in a number of countries. I am delighted to announce the signing of this deal which will help UK suppliers play an integral role in exciting projects around the world."
Adam Boughton, Advisian's Regional Director, Sectors (Europe, Middle East & Africa) said: "Both parties have already been working collaboratively and have identified a significant list of potential projects for consideration. The scope of projects demonstrates the significant geographical range and sector diversity that Advisian can provide in supporting growth."