May 23, 2019
Advisian Digital has partnered with USA DeBusk to achieve the first CAROL (Catalyst Removal Amphirol) launch in the USA, for catalyst unloading from fixed bed refinery and petrochemical vessels
Did you know, people spend around 10,000 hours unloading catalyst per year, and in 2016, there were 12 fatalities in one incident? By inventing a robot that can remove this catalyst and eliminate the need for human entry in to inert atmosphere, CAROL (Catalyst Removal Amphirol), has the potential to save many lives.
Developed in 2017, this innovative solution completed its first in-plant job in 2018. But 2019 will be the year that CAROL goes commercial thanks to our partnership with USA DeBusk – a best-in-class mechanical and industrial cleaning services provider specializing in serving the downstream energy sector.
"This is a fantastic push forward in the development of CAROL," said Roy Brown, Director of Emerging Technology, Advisian Digital. "We are thrilled to be working with USA DeBusk because it is just as excited as we are about the opportunities with CAROL. This partnership also means that we are on this journey together to drive new standards and efficiencies and create a safer environment in the refining industry."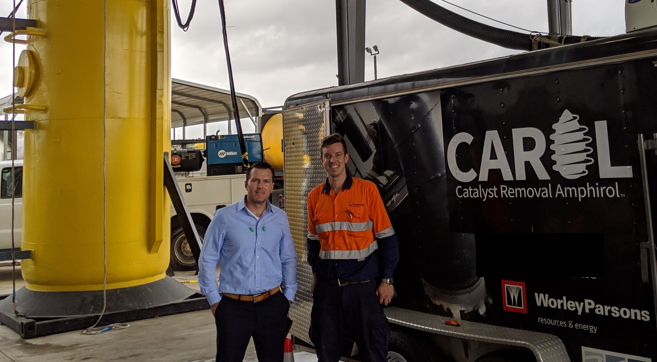 Roy Brown and Chris Jansen, Advisian Digital
There has so far been significant interest in CAROL in the USA from major global companies. Representatives from these and Worley recently attended an in-house demo in Houston where CAROL was used to fill a 35 cuft super sack with quarter-inch ceramic balls in eight minutes.
"CAROL has the ability to reduce current downtime created during shift change and employee rotation, because the robot requires no breaks so can work around the clock. We also see some applications where CAROL can be used simultaneously during a gravity dump or enter the reactor while it is still at elevated temperatures to decrease catalyst removal time and standby."
CAROL successfully performed its first US in-plant trial in Mississippi last year.
Want to know more about CAROL – contact Chris Jansen, Project Manager, Advisian Digitial.