Colleagues from WorleyParsons and Advisian headed to the seaside community of Hanuabada to show how remote skills being brought together can make a big difference to projects such as World Vision's Water, Sanitation and Hygiene (WASH) program.
Imagine living in a place where only 19 per cent of households have access to adequate sanitation facilities. In Papua New Guinea that's a reality. Less than half of the population having access to clean drinking water too, which is one of the reasons why World Vision's Water & Sanitation and Hygiene (WASH) projects are so important here.
In February 2018, three volunteers from WorleyParsons and Advisian, travelled to Port Moresby in Papua New Guinea (PNG) to visit the coastal community of Hanuabada. Three others from WorleyParsons supported the technical inputs of the study with remote skilled volunteering (WASH experts).
Under a Pro Bono Services Agreement arrangement with World Vision, the volunteers led a feasibility study for the investigation and design of options for toilet systems to improve local sanitation conditions for the 12,000 people of Hanuabada. The WorleyParsons Foundation supported the non-labour travel costs and provided a donation to the NGO partner to support the project execution.
Over two days, the team worked with World Vision and Asia P3 Hub to speak with various stakeholders in the community. "The visit was an intense but exhilarating experience for everyone," says Rajiv Venkatraman, an Advisian consultant from the Melbourne office. "We were able to interview residents and meet and consult government representatives to gather insights while visiting existing toilet facilities."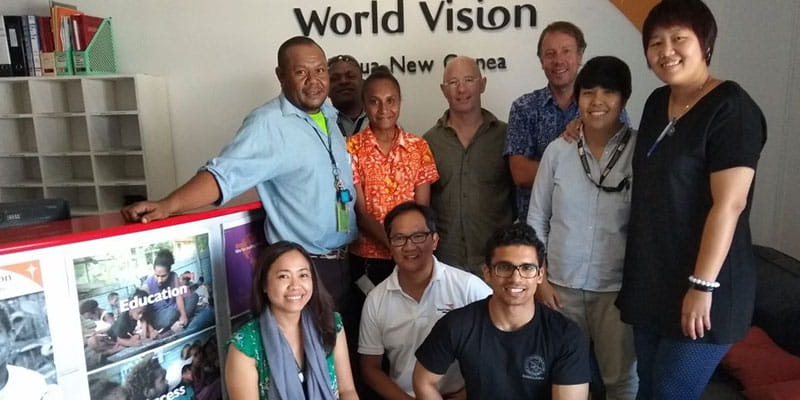 Venkatraman, along with Leong Chia Jang (Singapore) and Mark McPartland (London) – pictured above with the World Vision PNG team – are hoping to create a case study to demonstrate the humanitarian goals that can be achieved through multi-sector partnerships between private, government and not-for-profit entities.
The next steps will involve bringing their insights together to design solutions that will form part of the report for World Vision. This will guide the next steps in the charity's outreach efforts in the community.
Through this work in Papua New Guinea, WorleyParsons and Advisian also aims to meet six of the 17 Sustainable Development Goals set by the UN, including Good Health and Well-being, Clean Water and Sanitation, and Life Below Water.

"My participation in this project started with a desire to help people through engineering," explains Venkatraman. "The visit helped me being to understand the difficulties in creating sanitation infrastructure and I admire the resilience of residents in such areas. I'm looking forward to continuing this relationship with the community and World Vision as we combine our engineering and outreach efforts to engineer society towards a better life."
This article was originally published on www.worleyparsons.com