2 March 2018
Our Melbourne office is proactively demonstrating its commitment to minimise waste and reduce environmental impact by procuring 'keep cups' to avoid the use of disposable coffee cups.
Takeaway coffee cups are disposable, not recyclable, and contain plastics that don't break down and are extremely damaging to the environment. Current research demonstrates that microplastic and nanoplastics found in disposable coffee cups could be as damaging and poisonous as asbestos.
The statistics are staggering: Australians send 50,000 disposable cups into to landfill every half hour and approximately 1 billion cups are discarded into the environment per year. They are the second worst contributor to litter waste following plastic bottles.
Jess Dwyer, who jointly led the initiative with Arlette Bruzzaniti said "The recent ABC series "War on Waste" really struck a chord for us and gave a powerful visual demonstration of the impact our daily coffee is having on the environment. The excitement surrounding the cup selection and distribution process revealed how relevant this issue is to many of us. We've had great feedback with many of our clients seeing the example our team is setting and requesting cups for themselves! We're proud to be showing leadership in this area, inspiring our peers and clients to do their part in reducing waste."
After surveying a sample of the Melbourne branch about their takeaway coffee drinking habits, the use of keep cups will stop 12,800 takeaway cups from going to landfill each year and 5.2 tonnes of CO2 from polluting our atmosphere.
Harry Houridis, Principal Marine Scientist, was thrilled to hear about the keep cups. "Over 5 trillion pieces of plastic currently litter the ocean – as a marine scientist I see the damage this creates to our sea life and environment. One less cup that goes into landfill is one less piece of plastic to deal with. Such a simple but effective idea!"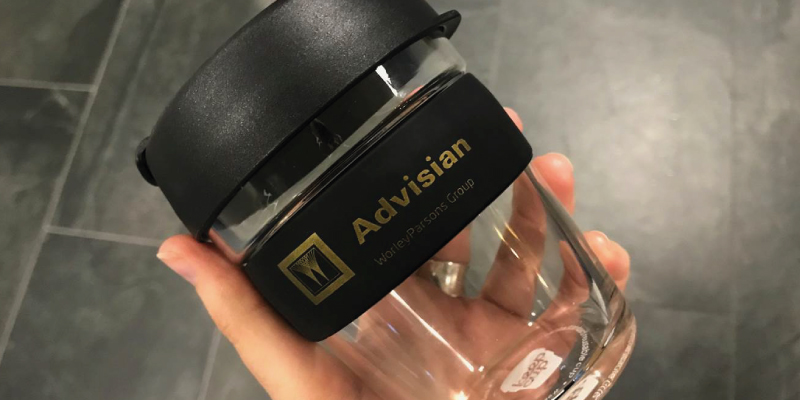 How can you ensure you aren't contributing to the coffee cup landfill?
Bring your own reusable cup
Choose a coffee shop that uses cups made from renewable resources
Drink your coffee in the mug in the café
Want to do your part? Click here to design and buy your own Keep Cup.