An Advisian and WorleyParsons team performed critical geophysical exploration for drinking water in the Kutupalong, Leda and Nayapara refugee camps, which were facing acute impending water shortages.
Did you know that between August and November 2017, the number of refugees in the Kutupalong refugee camp in southeast Bangladesh rose from 99,705 to 450,000? And, while there are about 6,000 very shallow wells here providing refugees with water, they are largely contaminated by e-coli and other pathogens.
In October last year, a team of five Canadian Advisian and WorleyParsons' hydro-physicists, under a consulting agreement for the United Nations High Commission for Refugees, headed to Bangladesh to help find deeper wells, using state-of-the-art, mining and geophysical industry technology, such as high resolution unmanned aerial vehicle (UAV) imagery, daily mapping and 3D interactive, cloud-based visualization technology.
Paul Bauman, Alastair McClymont, Colin Miazga, Eric Johnson and Chris Slater have been long-term supporters of water exploration for refugee camps. In 2016-2017, their water exploration resulted in clean water for 60,000 of the 185,000 refugees in Kakuma; and for 8,000 'returnees' to 22 villages and health clinics in Northern Uganda. The WorleyParsons Foundation is presently supporting the drilling and hand pump installation of 10 wells in this latest Uganda project.
Through the work in Bangladesh, we aim to meet four of the 17 Sustainable Development Goals set by the UN, including 'Good Health and Wellbeing' and 'Clean Water and Sanitation'.

Facing new challenges
"We started working in the Leda and Nayapara camps in the southern part of the Teknaf Peninsula, each home to around 50,000 refugees," explains Paul Bauman, a technical manager for Advisian. "There, we were able to save the United Nations High Commissioner for Refugees (UNHCR) months of drilling and exploration when our mapped area revealed big differences to theirs. We also found new possibilities for excavating and expanding existing surface reservoirs."
The team then moved on to the Kutupalong camp in the north.
"As recently as June 2017, this area was jungle, inhabited by Asian elephants," says Bauman. "When we arrived in the camp, there were people as far as the eye could see and a city of plastic tarps and bamboo. The cacophony of white noise of 450,000 people was like being in a chicken coop," he adds. "But the fact that the lack of clean and sufficient volumes of water had a technical solution made it easier to dive back into the chaos each day."
And each day was a very steep learning curve for Bauman and the team. "We needed to 'ground truth' our interpretations and fancy 3D visualizations against existing wells in known locations."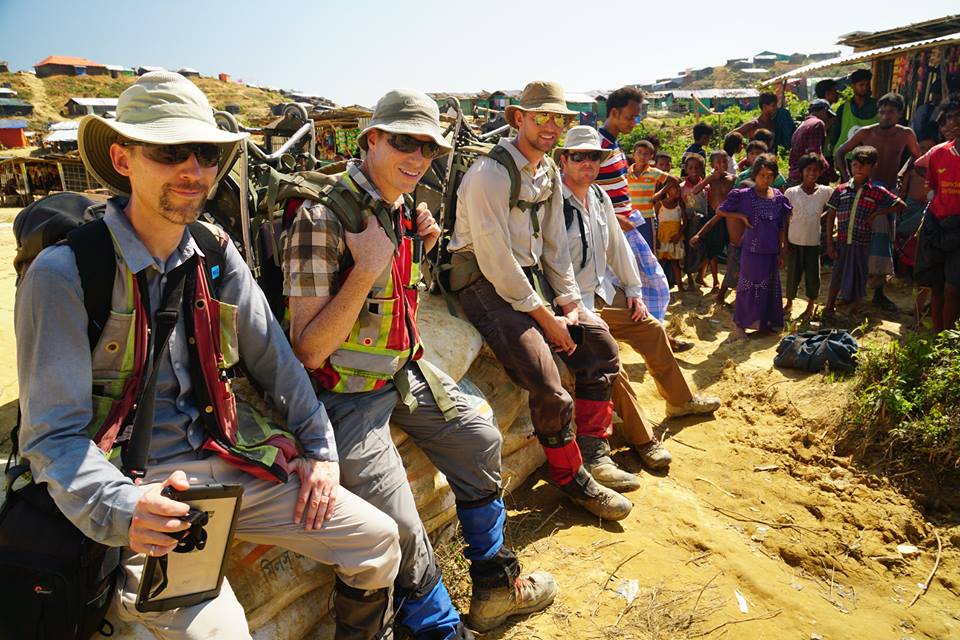 But how do you find those water points when they might be inside a walled compound of the village head man or inside a military post or in the middle of a rice field?
Think of it like a seismic survey, where we are laying lots of cable out through the streets, through the market, between villages and imaging what's in the subsurface," says Bauman. "We had to weave our way through the camps. But none of us spoke more than a few words of Bangla and as we pulled our cables through cities of plastic sheeting and mud, we had to be constantly aware that these were people's homes. Our Bangladeshi drivers were essential in helping us, becoming our translators, social facilitators, cultural advisors, negotiators of property access and of course, very good drivers!"
Utilizing advanced technology
It was here that the UAVs also became invaluable explains McClymont. "We flew the UAV to create geometrically corrected photos and digital elevation models over areas of the camp to be surveyed," he says. "This enabled us to map in detail the locations of all structures and get a clear understanding of the terrain before picking the most favorable location for our survey lines."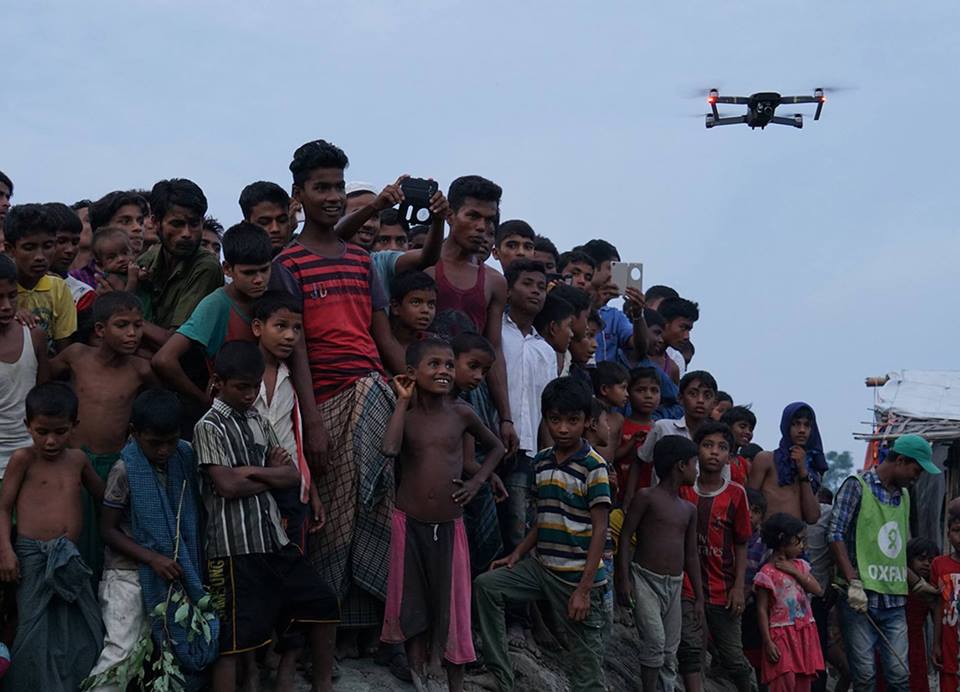 Once Bauman and his team found more locations for wells and logged their findings into the 3D visualization software, it was then up to UN agencies such as the UNHCR and UNICEF, who had access to the 3D models via the cloud-based software, to send in teams to drill at those sites.
"We're confident they're going to get water; we just don't know how much. But having a few great producing wells is far better than many low producing wells as you can then generate groundwater protection zones and minimize the costs of generators and pumps."
Bauman has two answers when asked how he felt his two weeks in Bangladesh went. "On the one hand, despite working in many refugee and disaster situations, I have never seen so many people suffering so much and under such dreadful circumstances. It was incredibly tough to witness. But on the other hand, the work we had gone there to do went very smoothly and we were able to solve seemingly unsurmountable challenges on a daily basis."
Making a difference
With the rainy season fast approaching, it's unlikely that Bauman and his team will be able to return to Bangladesh until later this year, however they continue to do what they can remotely, such as incorporating new drilling information into 3D visualizations of the aquifers as this information is provided to them.
And the lasting impact of the teams' experience is clear. "It makes you question whether there is any justice or caring in the world and what the limits are of human cruelty," says Bauman. "We were all so moved by the human resilience and graciousness that we saw in the refugees with whom we worked. Hopefully our work will help make a difference."
This article was originally published on worleyparsons.com as Finding clean water for nearly 600,000 refugees in Bangladesh