The Challenge
Subsea gas tie backs are limited in distance by the need to balance gravitational and frictional pressure drops, coupled with maintaining a turndown capability. As the length and or depth of the tie back is increased the back pressure on the well increases and the amount of gas which can be recovered is reduced until it is more economical to employ higher CAPEX / CO2 solutions, such as topside processing or subsea compression.
The Solution
By combining proven technology from unconventional gas fields and the petrochemical industry, the back pressure can be reduced allowing greater tie-back distances to be considered. Multiple compact passive piggable liquid removal units are used to remove liquids generated by the well and condensing from the gas during transportation. This coupled with small single phase centrifugal pumps, allows significantly larger pipeline diameters to be used by eliminating the gravitational pressure loss mechanism from the system.
The Benefits
Increasing the distance of subsea gas tiebacks by the means of creating energy efficient flow.
No moving parts (Passive) in the gas stream.
Massive reductions in upstream Scope 1&2 CO2 emissions – upwards of 80%.
The removal of the need for compression offshore or subsea.
Turndown ratios are removed as a natural constraint on the system.
Unparalleled increase in recoverable reserves from reduced back pressure and removal of turndown constraints.
Reduction in MEG upwards of 50%.
Reduction in CAPEX upwards of 40-60% over alternatives concepts.
Highly accommodating to brownfield and LNG development scenarios.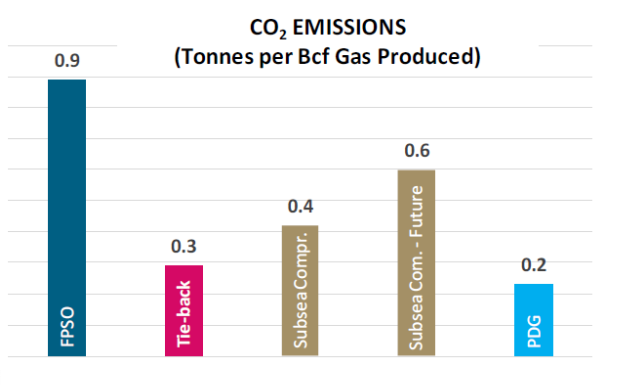 Technology Status
Significant flow assurance modelling has been performed to demonstrate the technology in various development situations (integrated dynamic gas and liquid system with vendor data and control loops). .
Eighteen month CFD scopes undertaken in house and by Strathclyde University – Aerospace Engineering Department to generate prototype design for liquid removal unit.
OGTC Directed Project established for Prototype of liquid removal unit at Cranfield University.
Working with OGTC and Industry Sponsors to identify next round of qualification work.