We'll help you get the most out of your (future) assets
Uncertain markets. Challenging market prices. Increasing competition. Ever larger (mega) projects. Shrinking talent pools. These are just a few of the challenges and opportunities you might have been facing as an asset owner over the past 12 months.
But in unpredictable climates, how can you maintain or improve your competitive advantage?
Aging assets and changing legislation present challenges as well as opportunities. Shifting energy landscapes require rethinking strategies, to buy or sell assets, to diversify into new markets. Meanwhile, the call for increased reliability and operational efficiency grows ever louder. The needs of the business must always be met, without sacrificing quality, safety or sustainability.
Assets drive your bottom line and your risk profile
As a result, you need a partner with industry expertise and a good understanding of the assets – what they cost to operate and maintain and the associated risks to be mitigated. We've worked with our clients across every stage of an asset's life, from acquisition, technical due diligence and inception to engineering, operation, lifetime extension and decommissioning. Whether you're a financer or a current or future asset owner, our independent advisors are ready to help you navigate the risks and opportunities you might encounter along the way.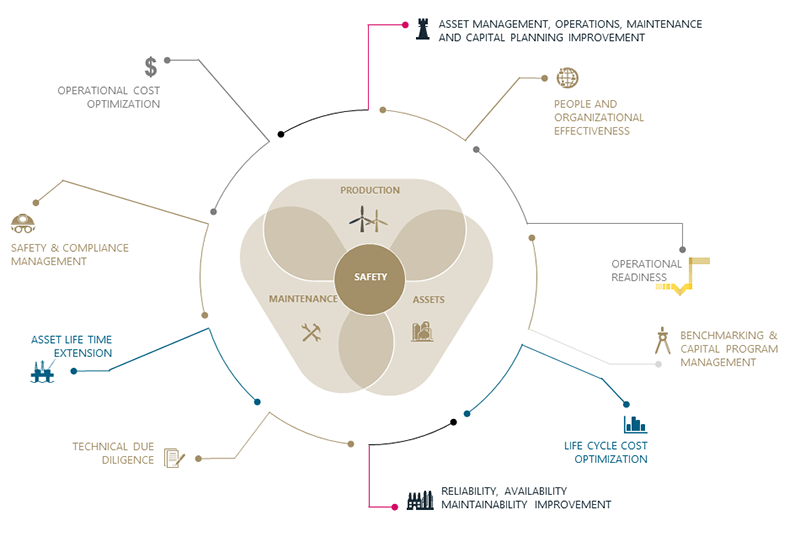 Asset advisory aligned with sustainability
In a bid to reduce carbon emissions, lots of our clients are morphing their business, reframing what they do and bring to market. We support clients with strategy and market advisory, helping them navigate these changes by conducting portfolio reviews and market studies, and by helping them to secure – and safeguard – their social licenses to operate. So they not only transform their business: they emerge future ready.
Strategy fully integrated with technical engineering and project delivery
By partnering with us, you have access to our global consulting team, working across the Americas, Europe, Middle East, Africa and the Asia Pacific. Our consultants bring both business and industry experience across operations, maintenance and engineering.
You also have access to the broader engineering and project delivery capabilities of the Worley Group, which has engineered, built, and operated many of the energy, chemicals, and resources assets you see around the globe today.
Talk to us, whether you're an asset owner, or a financer or investor
Our strategies are designed to ensure high utilization and on-stream factor performance, while managing risk and keeping costs at an optimum level.
The result? You get the most value from your (future) assets.