In the past, costs attributed to poor asset integrity management were minimal when compared to the profit margins attained. Though as income diminishes – as it has in the last two years – the costs are becoming too great to ignore, and inefficiencies are starting to be highlighted. Knowing where best to invest in assets – and where to reduce costs – can be tricky and confusing without comparable information to hand.
It is increasingly important for asset operations to be driven by a central strategy aligning everyone to the same objectives and priorities – it is no different for the optimization of life extension.
So how can oil companies refocus their strategies to get the most out of their aging assets?
Asset Life Extension Management
Asset Life Extension Management (ALEM) is an approach utilized to sustain the business requirements of existing facilities by reviewing their remnant life to ensure ongoing reliability and integrity. The ALEM strategy is developed to safely and cost-effectively manage the life extension of these assets, operating beyond, or approaching, their design life.
Remnant Life Studies provide a methodology with which to segment the portfolio to better manage the assets as a whole and focus on those that can deliver the greatest value to the company.
Production excellence
The Production Management Framework (PMF) is a set of tools that seeks to embed operational excellence into the day-to-day running of a business. Using a systematic approach, the PMF enables teams to focus efforts on the actions that effectively manage production.
These start with the setting of technical limits and a robust definition of the Choke Model. This is utilized to define constraints (current and future), displaying them in a manner that supports day-to-day management and investment decisions (MPP in the model below).
The accuracy and efficacy of production forecasting is reviewed, exposing any biases (intentional or otherwise) that have developed. Operationally the asset's ability to optimize production is challenged – with attention paid to oil and/or gas production. Loss management processes then feed into the overall opportunity register, where the effectiveness of smaller improvements can be compared with larger projects to release Locked-in Potential (LIP).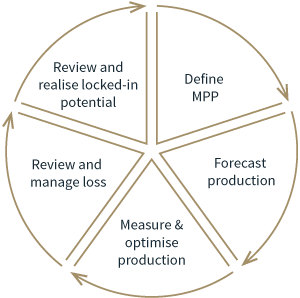 Maintenance excellence
The airline-derived process known as Reliability Centered Maintenance (RCM) is normally described as: "A process used to determine what must be done so that a physical asset continues to fulfill its intended functions within its operating context."

In both cases, when it comes to the environment of a mature asset the answer will be "Yes."
If we look at the question of function, most operators are either unaware of or have forgotten critical elements of functionality which can have a profound effect on the selection of an appropriate maintenance policy. This also gets exacerbated as oil companies upgrade their equipment throughout the operational life.
Having the right maintenance strategy/policy can limit the need for plant shut downs and remove the need to replace perfectly functioning equipment. As a result, there will be a highly valuable boost to uptime and productive capability.
The importance of human capital management
As companies realign themselves in order to deal with the ever increasing age of assets, the importance of Human Capital Management continues to underpin activity and decision making.
In any strategy, human capital is a priority to avoid skill gaps and encourage ingenuity in what will remain a complex environment. Careful development and management of the workforce aligned with the new strategy will create opportunities that are likely to give companies the edge over others that fail to implement a solution.
Achieving operational excellence is more than just about increasing performance, it is about changing the culture and behaviors so they are aligned with the company's objectives.
Getting the Most "Bang for Your Buck"
A study of the asset's situation is followed by project implementation in these three workstreams built around a central and coordinated strategy. Previous studies have proven highly beneficial for oil companies – extending the life of their asset(s) cost effectively, increasing production by 10% to 20% and reducing maintenance and capital expenditure by 15% to 25%.
The result of implementing operational excellence is not only improved performance, but more importantly, provides clear and concise information to help make well-informed decisions on where to best invest and get the most "bang for your buck."